Volunteering at ECHO is for many a long term commitment, and ECHO was proud to recognise the contribution of several long standing Volunteers by awarding them life membership at a recent Christmas celebration at the Oasis Restaurant in the Swan Valley
.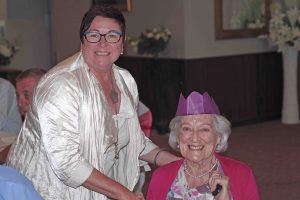 "As patron of ECHO Community Services I'm continuously reminded about the value of volunteering and the joy that it brings to both the volunteer and to those who we help. I'm honoured to have presented the valuable "life membership" awards to a group of highly valued volunteers at ECHO", said Ms Baker
From left to right, Sally Cawley, Bill Cross, Yvonne Hosie (already a life member) Norm Chappell and Kathleen Howell. Another new life member, Adrian Skehan, was unable to attend but we'll catch up in the new year.
Congratulations to all the worthy recipients and a big THANK YOU to all our amazing volunteers. Without you, ECHO could not do everything we do now.